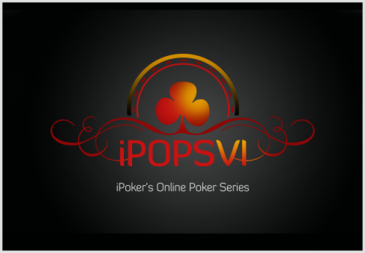 It is this Sunday 13 April that iPOPS (Online Poker Series) will make his comeback on iPoker.
The interesting feature of this series is that it will offer 8 tournaments in 8 days to small buy-ins (between 1 euro and 40 euros) and 8 tournaments in 8 days in larger buy-in. Series low-buy-in tournaments will be played from April 13 to April 20 at a tournament a day.
The High series tournaments will begin May 4 and will be until May 11. The buy-in tournaments will vary between EUR 25 and EUR 250 (the tournament to 250 euros is one to multi-entry).
For more details, here is the complete schedule of tournaments: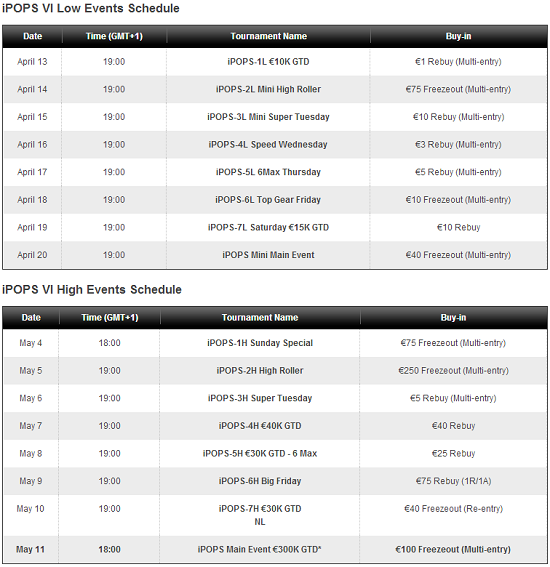 Will there be of the overlay in these tournaments? We don't know, but let's just iPOPS 3 H tournament that guaranteed 50,000 euros is a good candidate since generally, this tournament from Tuesday offers a prize pool of 35,000 euros only.
For other tournaments, hard to say since several tournaments offer rebuys, re-entries and very long periods to register (the late reg).
In all, the guaranteed series 1 million euros on 16 tournaments.
Remember that tournaments have costs of registration in euros which slightly increases the chance there is of the overlay.
To know tournaments that give the overlay during this series, you can discuss on PokerCollectif forums: VI iPOPS starts Sunday with 1 M€ GT
BLOG COMMENTS POWERED BY DISQUS
---