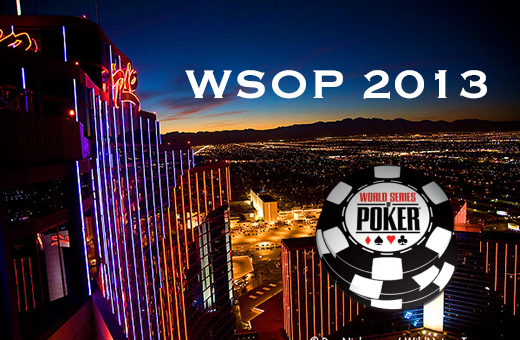 Event #32 - Hold'em no-limit 6-max ($5000)
Daniel Negreanu was to follow in this 6 - max tournament! Before yesterday, he was in 2nd place with a comfortable stack. His race is however stopped ranked 39th for $ 11,495. The Toronto player will have to postpone his 6th WSOP bracelet.
Currently the tournament is dominated mainly by Americans with head, Jonathan Little (PokerCollectif has published criticism of his latest work recently) that has slightly more chips than its nearest rival, i.e. 1. 29 M.
The tournament concludes today. The winner will win the bracelet and $ 606,317.
Event #33 - Seven Card Razz ($2500)
After 2 days of play, there are 14 players in this tournament of Razz. The tournament is currently dominated by David Back who has 303K tokens. The winner will be crowned at the end of the day and won $ 178,052.
Event #34 - Hold'em no limit turbo ($1000)
Many Quebecers took part in this tournament ' turbo em. After 1 day of game, there are more than 35 players of 1629 registered (this is called turbo indeed). one Quebec figure among these 35 finalists and it's (still!) of Jason "BébéChien" Duval. Bebechien is currently in 8th place with 193,000 tokens. The leader of the tournament, Victor Figueroa has meanwhile 354,000. When the action resumes today, the blinds will be at 2K / 4K with 500 antes. It is likely that the winner of the bracelet is crowned tonight which makes an interesting to follow event.
Feel free to follow us on Facebook to get updates about the tournament tonight.
Event #35-Pot Limit Omaha ($3000)
Among the 640 registered for this tournament, only 137 survived the first day. Among them, 4 Quebec: Érik Cajelais 130th ranked with 7100 tokens, Arthur Walker ranked 107th with 20,100 tokens, Philippe "PhilLeDingue" Boucher in 42nd place with 50,000 chips and finally, Jonathan "Poker_John" Duhamel ranked 14th with 87,500 chips.
The current leader is Jarred Solomon with his 159,100 chips. The action will resume today and the champion will be crowned after the day tomorrow. Players compete 72 scholarships, including a grand prize of $ 384,420.
Good luck to all our Quebec still in the race!
To watch today: the performance of the 4 québécois in Pot Limit Omaha tournament at $ 3000 and the final in the turbo tournament with none other than Jason Duval. Baby dog put the hand on a 2nd bracelet in less than a week? This is what we'll know tonight!
To discuss the performance of Quebecers to the 2013 WSOP, you can use our discussion forums: Jason "Bebechien" Duval looking for his 2nd bracelet
BLOG COMMENTS POWERED BY DISQUS
---