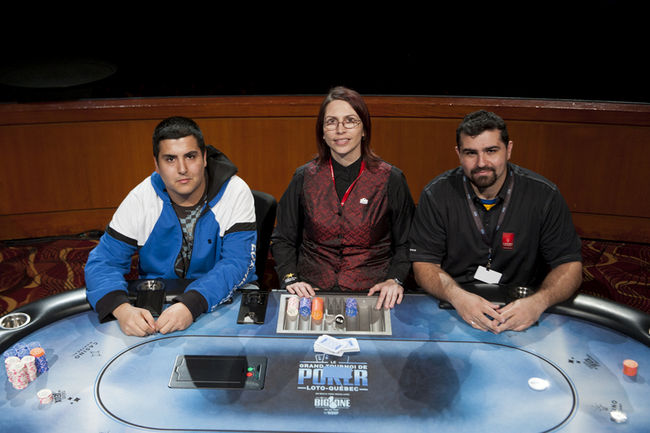 JeanChris finished second in the tournament Grand Loto-Québec Poker that took place this weekend at the Casino du Lac-Leamy! A weekend full of emotions for him and that is why we were curious to have some details about its participation in this tournament!
Happy reading!
1 - How did you get your seat for the tournament Grand Loto-Québec Poker? Have you been Stake?
No, I had no stake. I played 3 sit'n'go Casino du Lac-Lemay last week. They were sit'n'go to $ 3000.
Each sit'n'go had the overlay (total greater than money inflows grants) and there was a lot of amateur players so it was very + EV play. I finished 2nd in the first (5 players) vs Montgomery Scott, 5th in the second and finally first in the latter. I swapped the action with a friend who grindait NSE with me, but no stake was sold. The sit'n'go were really "crapshoot." It was worthy of a $ 60 tournament in a bar like structure, but hey, I ended up in a Binker anyway! ;) In losing 3 to 3k was for me a very bad week say.

2 - Did you have any concerns before doing or if you always knew you wanted to participate in this tournament?
No fear! The buy-in does not stress me at all. At first I was not interested in more than that to play the tournament, but the overlay in sit'n'go which was very + EV gave me the taste of the tournament. I would not have paid 25k out of my pocket to play with and against it was far too late to sell the action then, I only played if I won a sit'n'go.

3 - Could you tell us about the level of players in general?
I've never seen something so amazing. On one side, you takechip, Giggy and 15-20 of the top pros of Quebec, and on the other side, there were Mononcles and aunts who have earned their ticket with a lotto ticket or radio. This is the most diverse I've seen in my life field.
Remember that this is a 25K tournament, so it's still pretty sick. I would say there were about 40-45% of the field which was good pros, 30% of amateur players and the rest, I would say it was the LIVE Montreal players, so really incredible for a tournament with such a big buy-in.
4 - How did you find the experience of playing against good players forum as Da_Engineer, Gaby, JPhil, Giggy, ChanMix?
I started on day 1 with notament Mike McDonald, and Erik Cajelais ChanMix at my table. The rest were amateur players, but not necessarily inexperienced. It was not the best compared to some table table, but it was still very good for a 25k tournament.
Y is not much happened in the first table. I spent a very large part of the day on the table before it breaks and my stack has always swinger between 25 and 35k (25k starting). I lost a pot worse vs Cajelais and Dropped to 15k before McDonald vs not double up.
Basically, you raise UTG (blind 100-200) 3 caller.
I complete the BB with 88 flop 458ddx He bets 1125 player call, I check-raise to 4100, it click back, I push all-in and call with Adax.
McDonald was left trying to live my playback me a lot, but unfortunately for him, it did not work out too well and I must say that I rarely owner someone as strong as him on a table. A really nice guy and it was very fun to play and talk with him.
Then I had a switch table that was the most beautiful table I've seen in my life.
Basically, it was me, GabyGaby, PokerPhil 5 players and fans liabilities. I spent 35k to 160k in about 3 hours to play close to 60-70% of hands.
I won 2 big pot back to back, where I notament a cooler (very big hand vs very big hand) an amateur player.
It limp early, I limp back BTN 77, Jean-Nicolas Verreault vennait who arrive at the table to raise BB 2600 (the blinds were 400-800), an amateur players and I call complete.
Flop 873fd
Verreault check, 3k amateur player bets, I call, call Verreault
Turn Kx, check, amateur players bet 5k, I call, fold Verreault.
3x River, the gentleman bank a little time and put 7k
I push all in for about 25k and call it with 73s.
After I flopped a flush in a pot 3b and made another pot of about 50k.
Unfortunately, the day ended a little sore and my table was so perfect that became worse when JPhil, Engineer and ChanMix settled.
All my bluff 3bet/4bet have ever had and although I constricted my range and not waste too much chips, I ended the day with 132k (I mounted a downswinger 180k and 50k in the last level).
Day 2 began as Day 1 ended, that is to say that I made playback, nothing happens, I drop to 100k just before a cooler against Engineer (AA vs QQ preflop).
Then I go up to 250k ish, and I play this hand vs Chan:
(4handed) (B 1200-2400), Chan covers me, I raise QTO early, Chan uses his false image of me nit 3b 4800-11500
I call OOP
T63ddx flop, I check, he bets 12k, I call
Turn Qx .. I check, he bets 20k, I c / r 56k, it pushes all in, I call it and I want to 89dd good and picks up the chip lead with about 530k in chips.
A few minutes later, the final table starts with 8 players.
Giggy, JPhil, ChanMix, Frenchdawg, me and 3 other amateur players, Giggy is to my left and directly in the second chip, so it is not the best situation in the world say.
Nothing special happens at the final table, except that the two amateur players are in the process of destroying all the pros and become deep, especially Carlos who rides a stack of 600k +.
All finished by buster and I pick up my chips quietly world, down to about 300k and finally found 3 players: me and Carlos ChanMix.
It was not long played 3 handed
I often stacked Chan on this hand:
Blinds were 4 or 5-8k-10k, I'm able too sure I minraise button, Chan 3bet me, I shove with 33 and hero call with A5o
QQ7 board, brick, brick and I win!
HU time!
For HU, I do not really have a specific hand to tell. We exchanged chips for 6 hours, I dropped my stack to 250k at some point before rising to 900k 2 times, but I ended up losing several ways pots and busted with A3o I pushed all in its KK, AA after having back to back to back and picked 3BB precisely.
GG, he played very well and ca been much more difficult than what I expected. For an amateur player, he Impress me and my edge with this structure was not massive.

5 - What did you think made ​​the final table?
At the final table, nothing had changed. This is a big Winner Take All, so finish fifth or second does not make much difference. The aim was therefore to try to collect as many chips as possible as quickly as possible. At the final table, especially when we were at ITM (6handed), I had the best seat in position on two amateur players with big stacks and Giggy / JPhil / Chan were not too deep and could not not do much.
I must confess that when the final table started I loved my life a little less: Giggy was second in chips to my direct left (I was chip leader at the start) and let's say I have not had too much trouble when it s is set to lose his stack. It was much easier to get me off on this final table with it and because JPhil and Chan were to my left were also short.

6 - Rendering heads-up, nervousness should start to be great? Have you talked with your opponent in a possible deal?
Yeah! Do've never been so nervous in my life, it was really cool and a sick feeling. We tried to make a deal that gave me the seat to play in Vegas. For my part, I gave him the money from the 1st/2nd place and a certain% of my earnings, but unfortunately, after two attempts, has never been able to agree to it and finally said "let's play JC ". The only deal we found is that the money from the first site (17k) was a 2nd place. So instead of 73K, 90K I pocketed.

7 - Do you have any comments after the game? Are you satisfied with your performance?
I think I have no choice but to be satisfied, it happened so close. But when you are so close to a 1st place worth 1 million dollars plus all the "exposure" and cloistered with 90k, it hurts. It is clear that I was very sad and disappointed when I lost the HU and I've never fired a brush as fast in my life, but at the end of the line, after the sadness is gone, I 'm very happy.
After the heads-up and celebrations, it took something like 30 minutes before I receive the official check so I can go to the cashier to change. While I was waiting in line to change my check, I saw several waitresses passing with glasses of champagne. I decided to Line up some as if it were shooters (a dozen). I arrived at the counter to change my check and I realize that I no longer have the check, only the big unofficial check. Fifteen minutes later, he was found on the floor of the casino theater! There are not really any big stress, it was only $ 73,000!
A big thank you to all the friends / family who were there to railer, it was really sick, I dare not imagine how sick it would have been if I had shippe the seat.
Thank you everyone!
PokerCollectif and its members would like to thank JeanChris for taking the time to answer our questions and welcome once again for this outstanding performance!
Discuss this news on the forums PokerCollectif: JeanChris tells us his poker tournament Grand Loto-Québec!
BLOG COMMENTS POWERED BY DISQUS
---