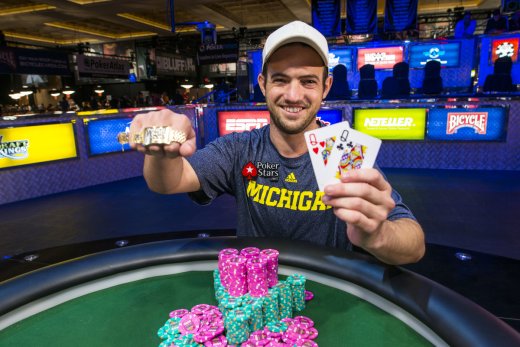 Event #32: No-Limit Hold'em 6-max ($10,000)
When this tournament resumed yesterday, it remained more than 13 players, including Joe Cada, JC Tran, and Erick Lindgren.
It is ultimately the old 2009 World champion, Joe Cada, who won the bracelet! A second for him in addition to 12th in a WSOP tournament.
JC Tran Meanwhile finished 4th for $ 185,971 and Erick Lindgren finished 5th for a purse of $ 129,192.
Event #33: No-Limit Hold'em ($1,000)
This tournament interested us because Jason Hallée was the 2nd day. Unfortunately for Jason, even though he had a good start to the day, has eliminated the 86th ranked for a purse of $ 2,901.
When the day will resume, there are still 10 players in action and the leader in chips will be Will Givens with 1.2 M chips.
The winner of the tournament is awarded a $ 288,744 grant.
Event #34: Seven Card Stud ($1,500)
Daniel Negreanu was to follow in this Stud tournament yesterday. Unfortunately for him, he should put it for his bet since he finished 10th for a purse of $ 8,504. However, Negreanu have not yet won a bracelet this year, his performance impressed. In 2014, there 2 10th position, a 2nd and 18th position.
And the series have not been completed.
To return to the tournament, there's still 6 players in the race led by Aleksandr Denisov who has 668,000 tokens.
All players will be insured $ 18,802, but will all be first place that pays $ 118,785.
Event #35: No-Limit Hold'em 8-max ($5,000)
550 players participated in this tournament 8-max. For the moment, it is none other than Sam Trickett that dominates with its 172,000 chips.
Quebecers, include Josué Sauvageau (Faith) in 26th place with his 79,500 chips. A little further on, Rock Cloutier has 69,700 tokens in 38th place and finally, Jonathan Duhamel is 78th with his 45,300 chips.
We follow them with great interest today.
Event #36: No-Limit 2-7 Draw Lowball ($1,500)
241 players took part in 2-7 Draw tournament dominated currently by Brian Rast. Immediately after, in 2nd position, there is another well-known figure of Quebecers: Joseph Cheong who has 54,475 tokens.
At present, there are 38 players in the race, but no québécois. Only 28 of the latter will be paid and the winner will win $ 89,483.
To watch today:
-8-max tournament in which 3 Quebecers are still in the race
-The beginning of the event #37, a $ 1,500 Pot-Limit Omaha tournament
Discuss the performance of Quebecers to the WSOP 2014 on PokerCollectif forums: Joe Cada wins his 2nd bracelet
BLOG COMMENTS POWERED BY DISQUS
---