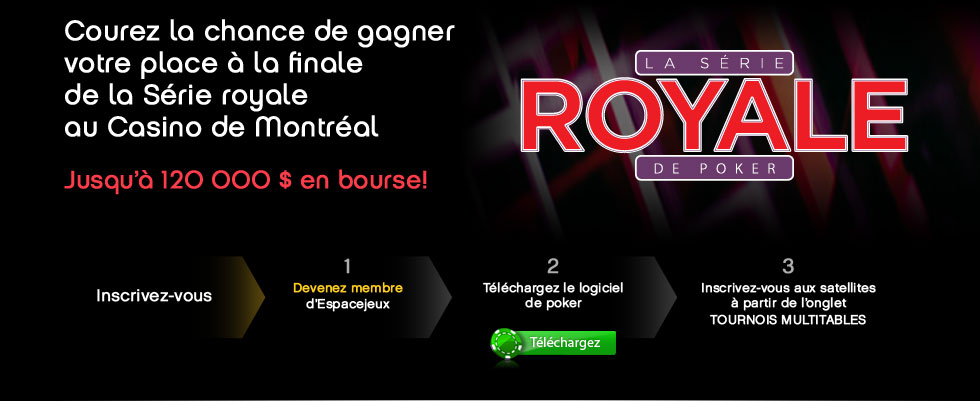 If you want to participate in the Royal series organized March 15, 2013 at 13:00 at the Casino de Montréal, this will be possible thanks to satellite organized espacejeux tournaments.
But first, what is the Royal series? The Royal series is a major poker Championship, held annually at the Casino de Montréal. Since the first edition which was held in 2009, the number of participants has steadily increased. In 2011, the event brought together 120 lovers of poker from different regions of the world. This year, the finalists will share grants totaling up to $120,000.
To win a seat to the Royal series, you take part in a host of satellites to the schedule from December 17, 2012 to March 10, 2013.
In addition to the daily satellites at $ 5.50, 550 pxp and $ 0.55 (see Espacejeux lobby under satellite of mtts for more details), every Sunday, December 23, 2012 to March 10, 2013, you can participate in a Supersatellite $ 55 ($50 + $5) that guaranteed a seat to the tournament each time. Each package includes an entrance fee of $ 1100 and $ 150 in spending money (deposited directly into your account Espacejeux). At this tournament next March, you could win your share of the $ 120,000 in scholarships!
It should be noted that a single seat cannot be allocated per person! In addition, the value of the seat is not redeemable for cash. If you do not want to participate in the tournament, the seat will be awarded to the person who completes the 2nd rank of the tournament. No compensation only will be awarded if you choose this option. Espacejeux is not responsible for any impediment at this day of tournament.
For what is the biggest bankrolls, you can obviously buy directly your entry fee by paying $ 1100 buy-in! This is obviously the easiest option!
How to enter you plan participate in this tournament?
You will be able to discuss on our forums! To all participants, we wish the best of luck!
Join the Royal series of poker through Espacejeux
BLOG COMMENTS POWERED BY DISQUS
---