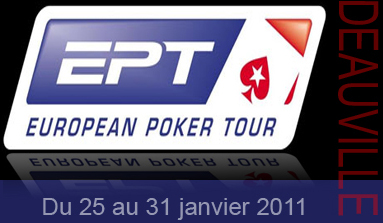 Barely 3 months after his victory in the Main Event of World Series of Poker, Jonathan "PokerJohn" Duhamel won the High Rollers EPT Deauville for a grant of € 200,000.
Many poker players have as superstition that being generous is good for karma and richochet, gives us the "good run" (of luck). In the case of Jonathan Duhamel who presented a cheque for $ 100,000 recently to the Canadian Foundation for children, you would think that it is true.
The price of entry for the tournament was € 10,000 and 58 players were enrolled. After the first day of play, he remained more than 16 players. We saw already then Jonathan in the top three:

1 Ralf Bussman - 176 500
2 Alexander 172,000 Ivarsson
3 - Jonathan Duhamel 168 200
eight awards were distributed in total according to the following structure:
1 €200,000
2 €120.000
3 €74,000
4 €53.000
5 €41.000
6 €28.000
7 €23.000
8 €17.800
Note a pot important for Jonathan on the final table. All players fold to Jean-Noël Thorel that makes a standard raise on the button. Jonathan looks at his Qc6c and call on the big blind.
The flop comes 4-Q-2 and Jonathan check leaving the floor button that check too. The turn is another lady. Jonathan check and teh decides to overbet push all in his stack in the pot of 50,000 tokens (difficult to understand the reason for this overbet here). Jonathan snap call with his kind and teh shows Ac6c and is drawing dead (regardless of the River, Duhamel won the hand).
You can watch the interview with the winner of this event here:

http://www.YouTube.com/watch?v=mJDmMjMODf0 & feature = player_embedded

PokerCollectif and its members congratulate Jonathan Duhamel for his other great performance!
Discuss this article on the forums of PokerCollectif: Jonathan Duhamel strikes again!
BLOG COMMENTS POWERED BY DISQUS
---