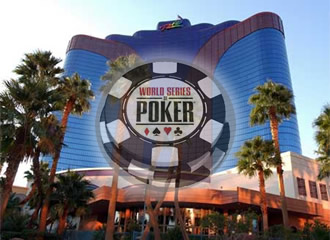 Event #51: Monster Stack NLHE ($1,500)
This tournament us interested by the presence of Jason Duval aka "dog baby" on our forums.
Earlier in the day, Jason was among the leaders, but he unfortunately could not get to the final table.
On Facebook, he reported he lost plenty of chips after losing with dd to AT and a little later with AK vs 99.
In his last hand, it grows a pair of 4 and is called A9 which won the flip.
Jason completes all same 31st for a purse of $ 40,332. The tournament concludes today while there are more than 9 players. Switzerland Hugo Pingray dominated the event with more than 22 M in chips.
#55 event: No-Limit Hold'em ($1,500)
This tournament also interested us since many québécois were to follow. As a reminder, here is the Québécois in question with their stack of starting at the beginning of the day:
70th Rudy Blondeau with 52,100 chips
Marc-Étienne 144th, McLaughlin with 31,900 tokens
171st Sam Chartier with 27,400 tokens
257th Jeff Côté with 10,600 tokens
After the day of yesterday, things have changed.Sam Chartier finished in 206th position for a purse of $ 3,202. Rudy Blondeau . Meanwhile finished 167th for a purse of $ 3,493. Jeff side finished a little higher ranked 106th for a purse of $ 3,881.
Meanwhile, Marc-Étienne McLaughlin alias Général Irish (finalist in the Main Event of last year) is among the leaders of the tournament while 17 players left. Now, it has 795,000 tokens either half of the leader. It ranks 7th. Towards the end of the day, Marc-Étienne has lost a big pot with a flush to ACE against a full, but still has a comfortable stack which could lead it to victory.
At this stage, it is assured of a scholarship of $ 20,733. It will of course seek the first position and the $582,321. We wish him the best of luck in his race for his first bracelet.
Event #57: The Big One for One Drop ($ 1,000,000)
No Quebec in this prestigious tournament, but it will interesting to take a look.
It is finally 42 players who took part in this tournament at 1 M$ buy-in.
42 entries, yet 31 are in the race led by Sam Trickett. Note that Phil Ivey is 3rd in chips with 7, 6 M$ (Sam in a 13, 4 M).
8 players will be paid in this tournament (1, 3 m$) and the winner will win 15, 3 m$.
To watch today:
-Marc-Etienne McLaughlin who is headed for the final table of the tournament
-The sequel to the Big One
-The beginning of a tournament of NLHE Mixed Max
Discuss the performance of Quebecers to the WSOP 2014 on PokerCollectif forums: Marc-Etienne McLaughlin is headed for a final in the 55 tournament table
BLOG COMMENTS POWERED BY DISQUS
---