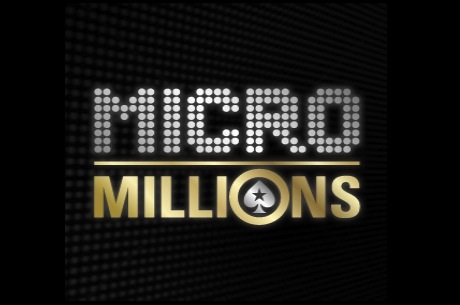 For larger budgets, there's SCOOP and WCOOP PokerStars! These are 2 sets of very popular tournaments which take place once a year. For the smaller wallet, there is MicroMillions, a series of 100 tournaments that will take place from November 15 to November 25!
On 15 November will begin the MicroMillions3, a series of tournaments for all players who like tournaments, but who do not have a big bankroll. Even if the costs of inputs are low, guarantees in scholarships are really interesting. In all, $ 5 million will be guaranteed during this tournament series and you can even register to tournaments that have buy-ins as low as $ 0.11.
If you do not fund PokerStars, you can make a deposit of $ 20 or more by using the code 'MICRO' for a ticket of entry into a tournament at $ 3.30.
Among the remarkable to mention tournaments, November 25 will play SundayStorm special edition $ 11 with $ 300,000 in guaranteed prizes! The same day, will be the Main Event $ 22 which promises $ 1,000,000 in which $ 150,000 in the first!
Good luck to all participants in the 2012 MicroMillions!
To discuss this new and to tell us your results, you can use this thread: MicroMillions 3rd edition on the 25 November 15-PokerStars!
BLOG COMMENTS POWERED BY DISQUS
---