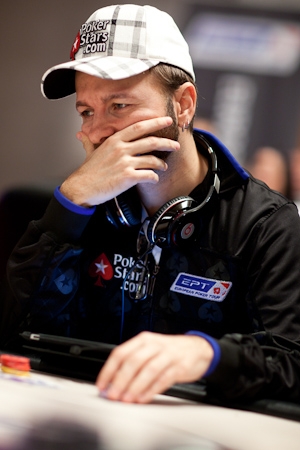 The €10,000 High Roller of the EPT Barcelona started yesterday. 131 players are registered and 32 are re-registrants. Among the eliminated players, Daniel Negreanu, eliminated in unfortunate circumstances.
Negreanu was eliminated on a pass from tilt. He was so angry that he decided to push his stack "in the dark". In other words, whatever his next hand, all his chips would reach the middle of the table.
That is what has so many tuned Negreanu? The incorrect application of a regulation according to him.
Negreanu was standing in front of his seat on the small blind. As a result, the dealer then immediately took the decision to burn his hand. A choice approved by the floor after a strong challenge from Negreanu.
As Jason Mercier on Twitter has subsequently indicated, the reading of the rule in its entirety yet tends to give reason to the player in such a situation: "a player must be in place when the dealer deals the first card of the deck. [...] By "in its place", means in the immediate vicinity of its head. In case of doubt, the decision is left to the discretion of the floor".
Negreanu has subsequently published a post on his blog to explain the situation:
"I just lost my composure and react anger. I wanted more to be there. [...] I am aware that this reaction is silly. [...] Besides the burned hand was a KTo, so far say it was just a matter of principle.
I agree that change is necessary for the growth of this game [...] but in my opinion, tournament directors and dealers do not always evidence of common sense. Their objective should always be to give satisfaction to the player at the moment his attitude is not in contradiction with the spirit of the game and the integrity of the parties.
In this situation, a player and a dealer discuss on a semantic point, on the acceptability of a distance of a few centimetres over the Chair. And even if the dealer had been right about the distance at which I was the Chair, it would not have changed the fact that its decision was wrong.
But short, in a situation like this, it is in everyone's interest to give the player the benefit of the doubt. It's just the best application of the rule and the best decision for the business.
I expect when even me re - register for the tournament and make a deep run. "
Discuss this news on PokerCollectif forums: Negreanu tilt his stack in the EPT High Roller
BLOG COMMENTS POWERED BY DISQUS
---