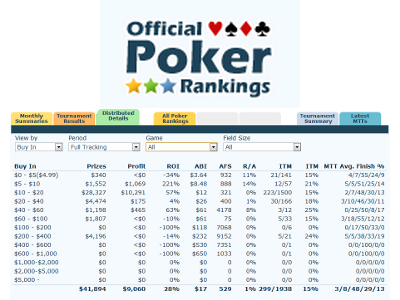 It is brand new! The majority of tournament players already knew official Poker Rankings, a site that gives you the results of your opponents and their King tournaments. The old site address was http://www.officialpokerrankings.com/. Today, you will find at the following address: http://www.freepokerratings.com/.  To do the research, you will need to have an account (you can do some research without an account, but you will have less detail). Surf the site to discover some innovations.
For now, the OPR address still works, but shortly time, only the address of RPF should work. You will see that a few additional options were added to their new website, which will make things even more enjoyable for the users. We would have liked more details on this change suddenly to address, but this is not the case. If we get more information about this in the coming days, we will keep you informed.
Please note that if you'd asked you to exclude research on OPR (hide your results), you won't need to ask to ensure that your results are hidden on RPF. On the other hand, the majority of these statistics are accessible via the address http://playerscope.com/ site on which it is still not possible to hide its results.
Discuss this news on PokerCollectif forums: Official Poker Rankings becomes Free Poker Ratings
BLOG COMMENTS POWERED BY DISQUS
---