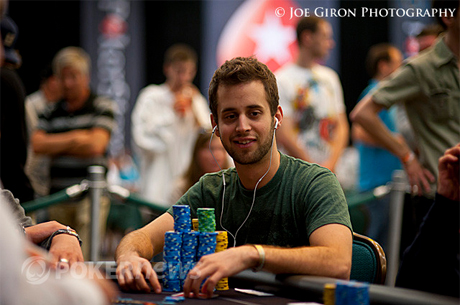 PokerStars Caribbean Advendure (PCA) 2012 are a series of tournaments which is played from 5 January to 14 January inclusive. The PCA began with a $ 100,000 tournament more rebuy (Hold'em Super High Roller - "8max" re-entry). Note that Jonathan "Poker_John" Duhamel who participated in this tournament has made a buyout sound (one of the only two players to have made a purchase) that allowed him to finish in 4th place and touch a scholarship of 313, $ 600! In first position, Viktor "Isildur1" Blom won a purse of 1, $2M!
The awards went as follows:
1 Viktor "Isildur1" Blom - $1,254,4002.
Dan Shak - $846,7003.
Galen "Turk Malloy" Hall - $470,4004.
Jonathan Duhamel - $313,6005.
Daniel Negreanu - $250,900
In addition to its 4th position in this Super High Rollers tournament, Jonathan has recently finished 1 of a tournament $ 5,000 (a side event) where 128 people are registered! Among the players on the final table: Jonathan Duhamel, Jason Merci and Piuz Heinz, winner of the Main Event at the World Series of Poker 2011! In short, a table far from "donkey"! "A tweet from Sharon well summarized the situation of Jonathan Duhamel of the last days:" Jonathan Duhamel which won the tournament $ 5000 at the PCA Bahamas + two other final tables in the same week. Bianca rotting in prison. You have to believe that there is justice! "."
Nothing better to put it back on foot and an equally impressive performance so far.
Speaking of Quebecers who are going well at the PCA, Philippe "Takechip" d'Auteuil pulls not bad also. After day 3 of the Main Event when he remained more than 64 of 183 registered players (Tuesday 10 January) Phil was the chip leader of the tournament with 1.47 M tokens.
His closest rivals are Sam Greenwood (1. 4M), Faraz Jaka (1, 2M), Alex Fitzgerald (1. 1 M), Anthony Gregg (1. 1 M) and Kyle Julius (1 M).
Good luck to Takechip for the rest of things!
Obviously, this brief overview of the PCA is not exhaustive and several names have been forgotten. That information will be known, PokerCollectif will keep you abreast of new developments. If you are a member of the PCA and want to give us some last days on your performance, you can do this by using the discussion whose address is given below! In short, don't be shy to add information that you are a player or not!
For the complete schedule of tournaments of the PCA, see the following address: schedule of PCA 2012
Discuss this news on PokerCollectif forums: Poker_John and Takechip make good figure at the PCA
BLOG COMMENTS POWERED BY DISQUS
---