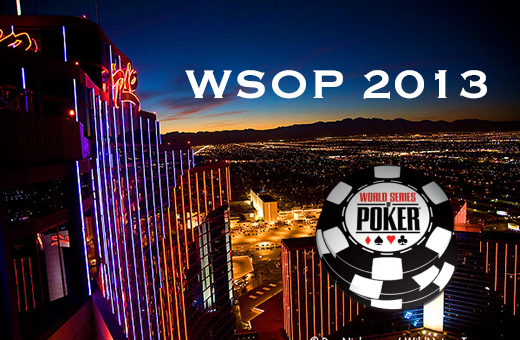 With the advent of the month of may, poker players are thinking very seriously at the World Series of Poker (WSOP), the more big and important series of poker tournaments.
The 44th edition of the WSOP which will be held at the Rio All-Suite will begin May 29 next ending July 15. During this period, 62 tournaments will be! A schedule so busy!
The tournament No Limit Hold'em 8 handed $ 5000 will open the ball! The Committee of the WSOP would surely that tournaments 8 players per table are becoming the norm as soon as 10 players tournaments as it was custom.
43 of 62 tournaments will be No Limit Hold'em tournaments ' em and 29 of between them will have buy-ins less than $ 3000, which will make this series of tournaments a bit more accessible for less fortunate players.
Millionaire Maker
Among the notable tournaments, believed in the "Millionaire Maker", a $ 1500 buy-in tournament. The winner of this tournament will be assured a scholarship from at least 1 M$. Players eliminated on day 1 may re - enter this tournament. With a large gap between the first place and the 9th place, the final table should be played in a rather peculiar way. It will be interesting to see what approach will the players in this tournament!
Ladies No - Limit Hold'em Championship
Last February, PokerCollectif you had talked about the controversy surrounding the ladies event of the past year.
Each year at the WSOP is held a tournament specially reserved for women: the Ladies Event. But, in practice, even if this tournament is named "tournament for women", it does not prevent a man to register. Obviously that gesture completely lack class, but over the years, it has not prevented some men to register.
The Committee of the WSOP had thought to exclude men from the tournament, but under the laws of Nevada, it would be discriminatory and sexist, a little as if we held a tournament restricted to whites, blacks or Asians.
To prevent other men their comic as in past years, the WSOP have decided to create a new formula: a tournament with a $ 10,000 buy-in with a reduction of $ 9000 if you're a woman!
It will be interesting to see this year if some men will be stubborn enough to still attend this tournament!
Not Big One for One Drop this year
As announced earlier this year, the tournament at 1 M$ buy-in, the Big One, will not return this year (it will be next year) and it will be replaced in 2 tournaments High Rollers.
One of them is the No Limit Hold'em 6max $ 25,000 and the other, a $ 50,000 buy-in title Poker Player Championship Tournament. Let us hope that the elite of the poker players will be there in large numbers. We expect that the caliber of this tournament is very high!
Main Event
Obviously, the last, but not least, the WSOP Main Event $ 10,000 will begin July 6. Three days 1 have been scheduled this year, followed by two days 2 before a general grouping during day 3.
We wish so the best of luck to all PokerCollectif members participating in this prestigious tournament series!
Discuss the 2013 WSOP on our forums: Presentation of WSOP 2013
BLOG COMMENTS POWERED BY DISQUS
---