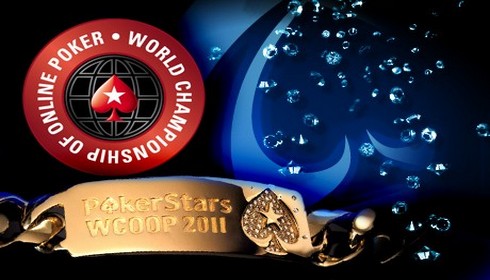 Yesterday began the series of tournaments on PokerStars 'WCOOP' (World Championship Of Online Poker). The tournament which has the most attention is the "High Roller" tournament with a buy-in $ 10,000. Some members of PokerCollectif have also participated.
Among them, "d0r1t0s" alias Chris McCLung (for an interview with Chris PokerCollectif, you can visit the following link: http://www.pokercollectif.com/Les-entrevues-multimedia/entrevue-avec-chris-mcclung-alias-d0r1t0s.html), "Dilith", "takechip" (Philippe d ' Auteuil, last August, 23 to be exact, had a day of more than $ 200,000 in cash game), Kirb, the living legend and finally, Jonathan "poker_john" Duhamel.
After a good start, "poker_john" was unfortunately eliminated in 108th position. On the other hand, as good news, he still finished 9th in other tournaments, the "$ 1000 Second Chance" yesterday for $ 7000. It's obviously not his largest purse in career, but it's always nice to make a final table.
Things were a little better for the other three members who have all three finished in the money.
Same for "Dilith" which finished in 14th position after losing with QJ on 59T 85 vs 99. He pockets $ 30,000 as "takechip" which at one point in the tournament, ended up with a few big blind only and last position (even before to be in money). Congratulations to him for this beautiful ascent. Kirb is as it released relatively quickly when AK met an AA.
The WCOOP are a prestigious series of tournaments online at PokerStars and buy-in are not within the reach of all budgets. On the other hand, you can still participate in satellites on the site to earn your entry, or as some others, you can locate the horse that you seems to be the best and invest a few dollars on him.
It is an opportunity for those who do not have the means to participate in the tournament to take pleasure in your way by following your horse closely.
Good players usually require a "mark-up" (a commision given that they are winning players on the long term and that they have been proven), but it is still an investment + EV for the "stakeux".
PokerCollectif will keep you abreast of other performance of Quebecers in the WCOOP 2011.
For the curious, here is the list of the largest scholarships awarded in this tournament "High Roller".
1 st place: DYBYDX (United Kingdom) - $430,000
2nd place: xraypies (United Kingdom) - $310,000
3rd place: Kevin "ImaLuckSac" MacPhee (Canada) - $235,000
4th place: Skilled G (Argentina) - $175,000
5th place: King kin23 (Russia) - $120,000
6th place: Tobias Reinkemeier - $100,000 "PokerNoob999"
7th place: MatchBalla (Denmark) - $80,000
8th place: SenorPokes (Canada) - $60,000
9th place: Tom "kingsofcards" Marchese (Canada) - $40,000
BLOG COMMENTS POWERED BY DISQUS
---