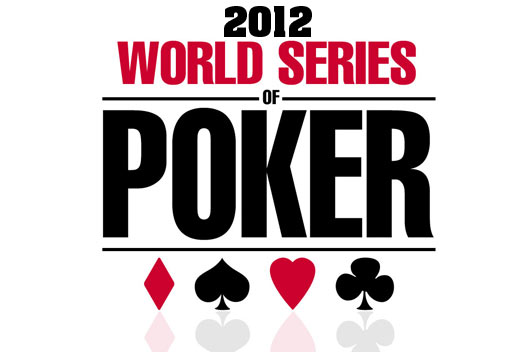 Defeat of Hugo Lemaire and final duel postponed between Joseph Cheong and Aubin Cazals to Hold event ' Hold'em Mixed Max. Herbert Tapscott, age 71, private Gavin Griffin to a second WSOP bracelet; Despite a second chance, Quebecers are white cabbage in the event of Hold'Em no limit, Bertrand Grospellier still in contention to defend his title in Seven Card Stud. Here is the summary and the results of June 3 at the WSOP 2012!


Event #6 – No - Limit Hold'Em Mixed Max $ 5000: there are only 4 players including Hugo Lemaire and Joseph Cheong.
Four players were back today to determine a winner. Unfortunately for viewers, it will be for another day. But first, how went by the half-finals?
Joseph Cheong quickly got rid of the French Hugo Lemaire. From the first fifteen minutes, Cheong was able to beat the Pocket ACEs of Lemaire with his pair of three, giving him a solid lead. In less than three hours, it has never left Lemaire return in part.
However, the story is quite different in the duel against Aubin Cazals Warwick Mirzikinian. The duel is eternalized for nine and a half hours! Although Mirzikinian was in control for much of the duel and put Cazals cables twice, it is finally the latter which took the top.
Then followed a long debate about when the final duel would take place. Hand, Cheong was in the tournament #9 with a rug over 20,000 tokens; on the other, Cazals was exhausted after nine hours thirty, headsup. Add to it that if they started to play the same evening, the party must absolutely be completed at 3:00 am.
The ultimate duel was first scheduled for 9. But following the elimination of Cheong with the #9 event (where Cheong decided to go all for all), the two players and the direction of the WSOP have agreed to furnish the part at noon. The #6 event will be therefore likely its ending today.
Event #8 - Omaha Hi-Low split 8-or-better $ 1500: 71 years, Hébert Tapscott private Gavin Griffin with a second bracelet.
The last 20 finalists were back for another long day of poker. Indeed, it continued for nearly 14 hours and the winner was declared with less than six minutes to the time allotted for the day.
In the end, it is Herbert Tapscott, age 71, who wins the game. He won the sum of $ 264,400. Tapscott will thus deprived one of the rare holders of a triple Crown, Gavin Griffin, a second WSOP bracelet. Griffin had thus to settle a 2nd place and an amount of $ 163.
The 2010 main event finalist, John Racener, will eventually finished in sixth place ($41 121), while Allen Bari and Dutch Boyd finished respectively ranked 15th and 18th.



Event #9 – No - Limit Hold'em $ 1500: Quebecers will not have been able to take advantage of a second chance...
While 1696 players enrolled in day 1, day 1 B will have attracted almost as many players: 1708 participants for yesterday. Therefore, a total of 3404 players who will participate in this tournament ' Hold'em $1500.
As the tournament allowed players to register again if they had been disposed on day 1A, many players have taken advantage of this reinstatement for a second chance to survive this first day. Thus, only André Boyer and Patrice Mauroy have not benefited from this second chance, while Stéphane Blouin and Michael Gabrial were added to the Québec delegation. Thus, eleven Quebec (nine taking advantage of a second chance) attended this day, either: Gabriel Alarie, Marc Aubin, Stéphane Blouin, Philippe Boucher, Erik Cajelais, Michael Gabrial, Eric Levesque, William Molson, Ioannis Pentefountas, Miguel Proulx and Allan Puzantyan.

The story is repeated for all those who have taken advantage of this second chance. Indeed, only Michael Gabrial (one of the only two players who have not benefited from a second entry) has been able to survive this first day, finishing 124th.

Unlike the previous day, no player has been able to reach 100,000 tokens: the leader in token being the American Adam Kornuth, who finished in first place with 94 700 tokens.

260 survivors of the day will be added to the 254 survivors of day 1 for a total of 514 players who will compete in the day 2. Among them, two Quebecers will return: Jonathan Duhamel will begin the day in 29th place with 65 700 tokens then found in Michael Gabrial, for its part, in middle of Pack in 246th place with 26 100 chips.



Event #10 - Seven Card Stud $ 5000: Bertrand Grospellier (Elky) still in contention to defend his title.
145 players took part in Seven Card Stud tournament $ 5000. Last year, 126 players had participated, but the cost of entry was $ 10,000 instead of $ 5000. No Quebec participate in this event.

There is still much poker to be played, since there are still 91 players on 145 participants. The leader at the end of the first day is the American Bryn Kenney.  The champion of last year, Bertrand 'Elky' Grospellier, is still in contention to defend his title.

The action will resume today at 5 p.m. of Quebec with the aim, to go up to the final table.


To watch today:
-The final duel between Joseph Cheong and Aubin Cazals.
-Day 2 of the NLHE $ 1500, where Jonathan Duhamel and Michael Gabrial will attempt to reach the paid places.
-Beginning of a Pot-Limit Omaha event at $ 1500.



You can comment on the various tournaments by clicking the following links:
Event #6-No - Limit Hold'Em Mixed Max $ 5000 - Joseph Cheong and Hugo Lemaire seeking a first bracelet.
Event #8 - Omaha Hi-Low $ 1500 - there are only 20 players!
Event #9-No - Limit Hold'Em $1500 - Jonathan Duhamel finished the day in 15th place.
Event #10 - Seven Card Stud $ 5000 - Bertrand Grospellier still in contention.
BLOG COMMENTS POWERED BY DISQUS
---