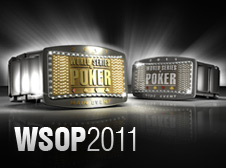 A noisy crowd to Thomas Middleton at event # 36, a final table for Tom 'durrrr' Dwan and Fabrice Soulier has had a night's sleep before having to get his hands on his first bracelet in Event # 37, a Another beautiful performance of William 'SixZeros' Rivet and Gabriel Alarie to évènment # 38, 11th place for Shawn Hattem the event # 39, a possibility of a second bracelet for Jonathan Duhamel at event # 40 Samuel 'aaajack' Chartier survives the first day of the Championship PLO event # 42. Here is the summary of the 23-24 June at the WSOP 2011.


Event # 36 (No-Limit Hold'em at $ 2500) - A noisy crowd to Thomas Middleton, but a victory for the Russian Mikhail Lakhitov
39 players were back for the third day of hostilities. Thomas Miller started the day with a huge advantage in terms of tokens, but rather another Thomas (Middleton this time) that has received attention in this 3rd day. With an extremely noisy crowd at his side, Middleton played a solid third day to meet up with a little less than a third of the chips when they were only 5.

Unfortunately for him, the game had to stop at the end of the day after the 10 game levels have been achieved, what appeared to break his momenthum. With only 5 players in the fourth day of play, Middleton had to settle for 3rd place. It is rather the Russian Mikhail Lakhitov that stood out at the 4th day, eliminating Thomas Miller in 4th place, and Thomas Middleton 3rd place a few hands later, finally ended the day speedily eliminating Hasan Babajane. The fourth day will have lasted barely half past one until a winner is declared.

With the victory Lakhitov, Russian now have two WSOP bracelets in 2011.


Event # 37 (Championship HORSE $ 10,000) - Tom 'durrrr' Dwan's final table, but rather the French Fabrice Soulier who won the bracelet.
Eyes on the final table were turned Tom 'durrrr' Dwan. The latter, which has several 'prop bet in play, was for a while the chip lead with seven players remaining ... but unfortunately for him, he had to settle for 5th place.
But rather Fabrice Soulier and regulations that caught the attention of the third day. "This is the dumbest rule the world!" could be heard from the crowd at the final table of the Championship HORSE $ 10,000. The crowd was referring to the 10-level, forcing the tournament director quit the game as soon as 10 levels are achieved.

Indeed, there were only two players: the Canadian Shawn Buchanan and French Fabrice Soulier. But Buchanan had a very small mat 910,000 chips while Soulier had nearly 6.3m. This gave Buchanan just under 4 bigblinds in his stack. The French were therefore not hesitate to boo when the tournament director announced that the party would be over for the night, depriving the coup Fabrice Soulier and its supporters a night of celebration.

The next day, it was only a matter of formality: it took Fabrice Soulier four hands to beat the Canadian and confirm his victory. Fabrice Soulier, headlining the online poker site Everest Poker (he was formerly with ChiliPoker) wins his first WSOP bracelet and brings the total bracelets France 3.


Event # 38 (No-Limit Hold'em $ 1,500) - Three Quebec in scholarships, including Guillaume 'SixZeros' Rivet the 49th (4th time this year he won the money at the WSOP) and Gabriel Alarie ( 27th place)
Quebec had known a great first day: Gabriel Alarie was in 2nd place at the end of the day, William 'SixZeros' Rivet was in 28th place and five other Quebec were able to survive the first day of hostilities.
Despite seven Quebec still in contention, none of them was not able to be one of the 23 finalists to reach the third day of play

Robert Bonneau, Gylbert Drolet, Jonathan 'Poker_John' and Frédéric Pierre Duhamel (who all started the day out of the top 200) have not been able to finish in the top 216 paid places.

Shayne Khanna, who started the day in 83rd, was able to reach the 100th rank, and putting his hand on a stock $ 3684. Guillaume 'SixZeros' Rivet, for its part, continues its momentum and succeeds, for the fourth time this year, to introduce among the paying places. It ranks 49th, winning $ 8,936. Quebec eyes were then turned on Gabriel Alarie, owner IamRanked.com. He nevertheless had to bow at the very end of the day, the 27th. He won $ 15,950 for his performance.

The second day will be ended with 23 players remaining. These players were all back for the third day that, once again, had to be interrupted during the headsup when he left that Arkadiy Tsinis and Michael Blanovsky. However, nothing is gained for any of them: although Tsinis have more than double the chips Blanovsky (7.1m vs. 2.8m.), The blinds are only 50k/100k (10k antes), which still leaves a lot of leeway to both players.

A winner will be crowned today, but we already know that the winner will win his first WSOP bracelet. Blanovsky has only $ 7,814 in gain career in major tournaments, while the best performance Tsinis is his 2nd place finish at the WPT in 2009 ($ 54,892 gain) and 11th in the 2009 WSOP ($ 57,506 in gain). The winner will receive $ 540,136 while the loser of the day will be consoled for $ 336,253.


Event # 39 (Pot-Limit Hold'em / Omaha $ 2500) - A 11th place for the Quebec Shawn Hattem
Two Quebec, Sean Grover and Shawn Hattem, were back for the second day of the mixed event Pot-Limit Hold'em and Pot-Limit Omaha. With 130 players remain and only 63 paid positions, there were still a lot of poker to be played. Sean Grover unfortunately had to leave after his elimination earlier in the day. Shawn Hattem's side, he was the happiest hand reaching survive this second day, ranking 11th out of the 22 remaining players.

Hattem finally finished the tournament in the same position he started the final day: the 11th position. And he won $ 18,018. It is finally Mitch Schock who won top honors, thus seizing $ 310,225 and his first bracelet world series of poker.


Event # 40 (No-Limit Hold'em 6-max $ 5,000) - A second bracelet Duhamel?
Eleven Quebec trying to get their hands on one of the biggest cash prizes so far at the WSOP 2011, when 732 players register for this event were $ 5,000. Among the eleven Quebec, three of them were able to survive the first day: Carter Swidler (31st), Jeff Hakim (131st) and the 2011 WSOP champion Jonathan Duhamel (134th). Rather, it is another player in this "november 9" of 2010 that ended the day at the forefront: the Canadian Matt Jarvis.

Although Jonathan 'Poker_John' Duhamel was the Quebec was most distressed at the end of the first day, he was the only one to achieve the scholarships. He was also able to reach the third day of play, then there are only 20 players. Jonathan Duhamel is currently in 14th position. Matt Jarvis, he was able to leverage its lead in placing 3rd place. Daniel Negreanu, for its part, is in 18th, while another Toronto. Russell Carson, is also still in the running.

Action resumes today and should be declared a winner ... unless the tournament is interrupted due to the 10 levels.


Event # 41 (Limit Hold'em Shootout $ 1,500)
538 players took by this limit hold'em tournament format "shootout". Among them, two Quebec (Cesidio Ricci and Jean-Philippe 'jpp' Piquette) and a francophone New Brunswick (Eric Aucoin).

Unfortunately, none of them has been able to win their game. So we end up with 6 tables of 10 participants. The remaining players are already assured of $ 4,118 and they will emerge victorious from their respective table is assured of a place on the final table and a minimum amount of $ 10,378. The winner will receive $ 167,060.


Event # 42 - Samuel 'aaajack' Chartier survives the first day
Quebec six were part of the 361 players who paid the $ 10,000 required to partcipate Championship Pot-Limit Omaha: Erik Cajelais, Samuel Chartier, Shawn Hattem, Christopher McClung, Stacey Spencer and Miguel Proulx. He had finished second in the same championship last year, and were well back this year.

Unfortunately, the day was difficult for most of them entry. Only Samuel Chartier (aaajack) has been able to survive the first day. It only remains for the moment a little less than half of the original participants (170) and Samuel Chartier found at 109th. Sam aaajack 'Chartier won earlier this year event-max PLO 8 to $ 5000 Caribbean Poker Adventure. It will however work hard to be among the paying seats, while only 36 players will be able to get their hands on a minimum price of $ 20,699.

At the moment, this is Manny Jo who leads the tournament. There are still many famous players, including Tom 'Durrrr' Dwan (8th), Vanessa Selbst (10th), Sam Stein (18th), Jason Senti (33rd), Phil Laak (45th), JC Tran (55th), Erik Seidel (58th), Humberto Brenes (65th), Barry Greenstein (68th), John Juanda (69th), David "Devilfish" Ulliott (72), Michael Mizrachi (95th), Daniel Negreanu (144th), Mike Sexton (154th) to do name a few.

The action should now continue until the stop sign at 10th level. Heads should then fall rapidly, and with a little luck, there will be the final to be played tomorrow table.


Coming up today:
- Jonathan Duhamel who will try to get hold of a second WSOP bracelet in Event # 40.
- Samuel 'aaajack' Chartier who is still competing in the Championship of Pot-Limit Omaha $ 10,000 (event # 42)
- Start of two events: an event razz at $ 2500 and another event no-limit hold'em $ 1500 (which may be quite popular with the Quebec delegation).

For more details, please visit the forum by clicking the following links:
Event # 36 - No-Limit Hold'em at $ 2500 - Prime bracelet to Russian Mikhail Lakhitov
Event # 37 - Championship HORSE $ 10,000 - A bracelet for Fabrice Soulier
Event # 38 - No-Limit Hold'em $ 1500 - Three Quebec among the paying seats
Event # 39 - Pot-Limit Hold'em / Omaha $ 2500 - 11th place for Shawn Hattem.
Event # 40 - No-Limit Hold'em 6max $ 5,000 - Duhamel could get hold of a second bracelet.
Event # 41 - Limit Hold'em Shootout $ 1,500 - Results
Event # 42 - Championship Pot-Limit Omaha $ 10,000 - Samuel Chartier survives the first day
Results of Québec WSOP 2011 - Update to the event # 39
BLOG COMMENTS POWERED BY DISQUS
---