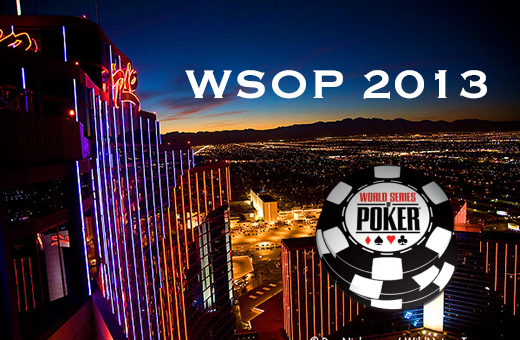 Event #22-Pot Limit Omaha ($1500)
It is yesterday that ended this pot limit Hold'em Tournament ' em at $ 1500. During the final duel, two Americans clashed: Noah Schwartz and Josh Pollock. Noah had a good lead, but was not what his opponent had more than him: much luck! A good stack is a very important tool to win tournaments, but be lucky is also a powerful tool! With a few 'double up', Josh Pollock finally accumulated all the chips in the tournament to win. For his performance, he won the coveted bracelet and the $ 279,431 that accompany it.
Event #23 - Seven Card Stud ($2500)
Another tournament which the conclusion was held yesterday, Seven Card Stud tournament. It was David Chiu who took the honours. For him, it was his fifth bracelet, nothing less! In 1996, David had already won a bracelet in a Limit Hold'em event ' em at $ 2000. For his performance, he won $ 400,000. With its bracelet won yesterday, it brings the total of his earnings in WSOP tournaments to 3.3 million$. He is also holder of a WPT title. Not bad!
Event #24 - Hold'em no limit ($1500)
Tournament no history and no Quebec is among the finalists (or even no Canadian). At this stage, there are 17 players in the race on 1731 entries. The winner of the tournament will walk away with a prize of $ 432,411.
Event #25 - Omaha 8 ($5000)
This tournament was to follow yesterday given the presence of Poker_John among the lot. Good news, since he survived yesterday and it is currently 12th in chips on the remaining 27 players. The tournament is currently dominated by Robert Mizrachi. In 4th position, there is another known name of poker players, Brian Hastings with his 259,000 chips.
Jonathan is so assured a scholarship of $ 9741. Today will be crucial for him. The winner of this tournament will win $ 277,519.
We wish him the best of luck for this important day! For those interested, the tournament will resume at 5 p.m. Montreal time.
Event #26 - Championships Hold'em seniors unlimited
This is 4407 players who took part in the senior championship tournament! Everything even impressive. The question many arose before the start of this tournament is if Doyle Brunson would be registered. Earlier yesterday, on his Twitter account, Doyle published a photo of a stack of chips from the Bellagio. Doyle gave the picture: "It's for that I don't play a tournament". He had before him a stack of at least $ 100,000 and played any cash games.
After the 1st day, only 640 players remaining. The tournament will resume today while the blinds at 500/1000 with a 100 ante. First place in this tournament $ 1000 is really interesting: $634,809.
Event #27 - Mixed Max Hold' no limit
It is 593 players who took part in this tournament at $ 3000. After the first day of play, there are now 234 players in the tournament including the well-known québécois de regulars PokerCollectif, Marc-André "frenchdawg" Ladouceur 163rd ranked with its 10,575 chips.
When the action resumes today, the blinds will be 250/500 with antes at 50.
To watch today: two Quebecers will be to monitor today either Jonathan Duhamel in Omaha 8 to $5000 and Marc-André Ladouceur tournament in the Mixed Max tournament at $ 3000. In addition, today will be the beginning of the event Hold #28' no limit to $ 1500, a formula that is expected to draw several Quebec among the lot!
Discuss the performance of Quebecers to the WSOP 2013 on PokerCollectif forums: WSOP 2013: Duhamel looking for a bracelet in Omaha 8!
BLOG COMMENTS POWERED BY DISQUS
---