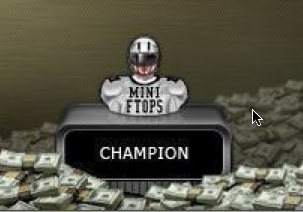 When we think the large series of online tournaments, cannot miss the FTOPS organized by Full Tilt Poker. Some years ago, FTP also organizes its miniFTOPS for smaller budgets. Indeed, the miniFTOPS offer the same events as FTOPS, but to about 1/10th of the buy-in. The series includes tournaments Multi-Entry, Rush Poker tournaments and tournaments Double Chance.
The MiniFTOPS XXIII milestones are:
The MiniFTOPS main event with a buy-in of $70 + $5
The Two - Day MiniFTOPS Event, with a $200 + $15 buy-in
The event No-Limit Hold ' em 6-Max Knockout $24 + $2
The MiniFTOPS XXIII offer seven tournaments to re-enrollment that allow you to another place in the tournament if you are eliminated and that late registration is still available. In addition, five events are programmed as a Rush Poker tournaments.
The calendar contains many types and tournament structures, including the Irish, 5-Card Stud and Escalator. In addition, three new variants of games have been introduced on Full Tilt Poker recently and are all three to the MiniFTOPS XXIII program.
You can buy your entry directly in any event MiniFTOPS XXIII, or participate in a satellite for just $0.11 or 10 Full Tilt Points. Raise the MiniFTOPS Satellite Challenge XXIII for the chance to win extra tournament buy-ins.
MiniFTOPS main event
The XXIII MiniFTOPS Main Event starts Sunday September 22 at 13:00 and and displays a buy-in of $70 + $5. This event is a tournament to re-enroll: If players are eliminated during the late registration period, they will have the opportunity to re-register.
MiniFTOPS (2 day event)
With a buy-in of $200 + $15, the Two - Day Event of the XXIII MiniFTOPS starts Saturday, September 21 at 11:00 and.
The first day will end at the conclusion of level 17. If the money has not been reached at the end of level 17, play will continue until the money bubble burst. The second day will begin the next day at 10:00 ET (14:00 GMT). This tournament has levels of blind for 30 minutes, full-ring tables and players start with 5,000 tokens at the start.
MiniFTOPS
There's more than money at stake when you enter a MiniFTOPS tournament. All players reaching the final table of a MiniFTOPS event will receive a limited-edition MiniFTOPS jacket. The winners of each event will receive a silver MiniFTOPS Jersey as well as a silver MiniFTOPS avatar with their 1st prize money.
Finish in first place in the MiniFTOPS classification and receive a special prize package, including a custom avatar and an entry for each event of FTOPS XXIV (except the Two - Day Event).
You can view the full schedule of MiniFTOPS XXIII on the FTP website: calendar full MiniFTOPS XXIII on Full Tilt Poker
For micro-budgets, you can participate in satellites for each of the tournaments in this series. See more details here: Satellites to MiniFTOPS XXIII
Who are our members who will participate in this series of tournaments?
Discuss on our forums: XXIII miniFTOPS starts this Sunday on Full Tilt Poker
BLOG COMMENTS POWERED BY DISQUS
---