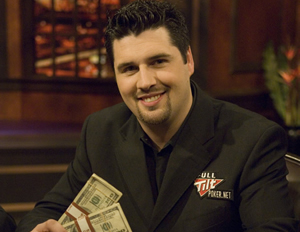 Brad Booth, formerly sponsored by Full Tilt Poker, poker in force player career began and has had great success. By great success, we mean here a player who made millions of dollars playing poker online. At the time, it was the cashgame with the most successful on the planet. Unfortunately, things have been more difficult for him when cheating on Ultimate Bet scandal while he lost a little more than 2.5 M $.
Lately, things were going very well for him and he had to borrow money from Doublas Polk, better known under his pseudonym 'WCGrider' on PokerStars and Twoplustwo. Therefore, Douglas tries to help by lending $ 30,000.
Brad had poker sessions that were not good in addition to accumulate debts of sports betting. When Brad received the loan from Douglas, had told him that he would reimburse to the Eyedropper, which did not bother WCGrider.
After a few days, Brad Booth reimbursed $ 2200 which does no pressure to be reimbursed. Since this small rebate, Booth left the country and gives more new. Douglas Polk tries to help, lends it money, is patient for refunds and is a victim of his kindness. Behavior for the least questionable Brad Booth.
Brad Booth today for more than a million in unpaid debts. WCGrider did a post on 2 + 2 to explain the situation; "he explained:" I sent $ 30,000 online to Brad. I told him we should stay in touch, that should keep me informed of her situation and that he should reimburse me little by little, when it could. He accepted. After a week, he sent me$ 2,200 online. "On the other hand, since that time, it has left the country, changed her phone number and started to ignore me completely".
Remember that Brad has spoken of his suicidal tendencies on TwoPlusTwo, thanked his family for helping him with his problems, and thanked the people to whom he owed money to be patient with him during this dark period for him.
Discuss this news on PokerCollectif forums: Brad Booth, millionaire to scammer?
BLOG COMMENTS POWERED BY DISQUS
---