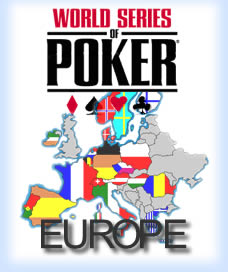 The first edition of the World Series of Poker Europe took place in 2007. Since this year, it is in London that has held the event. This year, it is Cannes that will receive the WSOPE 2011 and, for the 3 years to come between collaboration between Caesars Interactive and the Barrière Group. It is the casino Barrière de Cannes and the Majestic hotel which will host for this series of tournaments.

The dates for the event are from 7 to October 21. Note that the Partouche Poker Tour final will take place it also in Cannes, during the month of September.

The aim of the organizers is to look like 450 players for tournaments, or a few more players than last year while James edge, first of the Main Event.
For 2011, there will be:

1 NoLimit Hold'em ShortHanded € 1,500
2 NoLimit Hold'em FullRing to €1.000
3 pot Limit Omaha Full Ring to €5.000
4 NoLimit Hold'em FullRing to €3.000
5 pot Limit Omaha ShortHanded € 1,500
6 main Event NoLimit Hold'em FullRing € 10,400
7 a bit special event where the number of players going 9-6 up to 2 during the tournaments No Limit Hold'em € 10,400

It will be possible to qualify online for these tournaments.

The association between Lucien Barrière Hotels and Casinos and BarrierePoker.fr to host the World Series of Poker Europe will be for a period of 3 years.

"This alliance reinforces our our powerful synergies between the offline and the online strategy, and it is an honour to join in the world's most prestigious poker tournament" said Dominique Desseigne, Chief Executive Officer of Groupe Lucien Barrière.
Discuss this news on PokerCollectif forums: Cannes receives the 2011 edition of the World Series of Poker Europe (WSOPE)
BLOG COMMENTS POWERED BY DISQUS
---