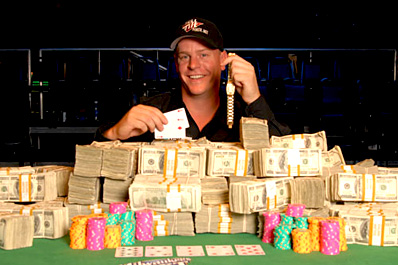 It's been a few days trolling on 2 + 2 thread According to several people on the forums, Erik Lindgren would have debts related to a fantasy football league.
Debts range between $ 5,000 and $ 65,000. A member has also posted a conversation between him and Erick when Erick hands still and tomorrow yet the payment of a debt of $ 2800. Strange coming from a public personality that won millions of dollars so far playing poker. I do not have the time, I have to leave, I ca tonight, I do that tomorrow... how much time does take to make a transfer? Anyone with a good will can send money in seconds with PokerStars, Moneybookers, Paypal, etc.
Regarding the fact that Erick is a public figure, a member of 2 + 2 recounted almost seriously that he would most trust to a member of the forum with posts 3000 and + and a good PTR instead of a public personality like Erick.
Debt did nothing wrong in itself, however, when on the train for months and months without payment will, this is where the story becomes another.
Daniel Negreanu that is known for its outspoken (and be the one who has his say on everything) took the defence of Lindgren highlighting that his generation had perhaps not the same idea of repayment periods than the generation that followed him. In other words, for Daniel, pay his debts with a strong time is not something exceptional or something to worry about. When someone delivers again and again to tomorrow the repayment of its debt, it is difficult to keep confidence in him.
Phil Galfond also took the floor in his blog (which you can read on his website) and mentioned had not really an opinion on Erick Lindgren, only that one day, he came to borrow a small amount of money on FTP and that it had repaid its debt in a fairly quick way and without any history. He continued by highlighting the risk of making loans in the poker world.
In his blog, he wrote: "I have always enjoyed Erick and for the little that I know, I do loaned him only once of money on FTP and it me made him quickly. […] However, I am familiar with and I trust some of the people who accuse him so I presume that some of their statements are true."
Galfond brings also an important point in his blog: when a public figure we need money like that and was slow to reimburse us, what is the right time to put this debt to the big day? What are the reasonable deadlines for payments? And if, once that a thread was created for example on 2 + 2, the personality in question would more pay back us because his reputation is already a little tainted? Dealer with a debt is something quite tricky.
When a highstakes player, it is difficult to have big cash on 3-4 poker online and live sites so it is commonplace to make loans and exchanges, but, of course, caution should be exercised during these exchanges, even if it is a person known and publicized.
Short, Erick creditors have expressed their concerns to never be repaid, especially since the vexations of FTP.
A member of 2 + 2 (coltranedog) confirmed that he had made several loans to Erick and that according to his account, it would be "allergic to the repayment of its debts", which is not reassuring to its creditors.
In addition to the debts of Lindgren, note that David Benyamine would have been seen in parts and tournaments less expensive than usual and Mike Matusow and Chino also have problems repaying their debts.
Discuss this news on PokerCollectif forums: Erick Lindgren is broke?
BLOG COMMENTS POWERED BY DISQUS
---