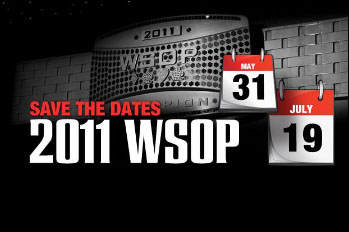 Jungleman philanthropist
Daniel Cates announced yesterday on his Twitter account that he was going to offer free entry to the WSOP Main Event to a person. How to earn this entry? First, you must live in Las Vegas (which unfortunately is not the case of the majority of the members of PokerCollectif).
Jungleman will keep you aware of its location via his Twitter account. When it will launch the appeal, the first person to join him in the location indicated, will be awarded a coupon. The person who has accumulated the most of these coupons will win headquarters. All participants must be 21 years of age and older and not have never participated in the Main Event (sorry PhilLeDingue). The seat shall be not be transferable. This is a great opportunity for all those who dream to participate in the most prestigious poker tournaments, but who are not necessarily the $ 10,000 to pay entrance fees.
Space-Games presents the Celebrity Tournament
The celebrity is the first tournament in casino signed Espacejeux. There places Saturday, June 18, 2011 at the Casino du Lac-Leamy. The tournament is a guaranteed $ 25,000 and up to $ 75,000.
For the entrance fee, you'll have to pay $ 600 + $60. On the $600 $500 are paid into the prize pool and $100 you can enjoy a meal in the company of celebrities and an overnight stay at the Hilton Lac-Leamy on Saturday, June 18.
Expected between 50 and 150 participants.
Good luck to all PokerCollectif members who participate.

Rumors about Chris Ferguson and Howard Lederer

According to published a thread on Twoplustwo, Chris Ferguson and Howard Lederer would have resigned from the Board of Directors of the Poker Players Alliance. According to Janice Fedarcyk, a manager of the FBI who is responsible for this survey:
"The accused lied to banks about the true nature of their activity. They are subject to 30 years in prison for bank fraud, 20 years for money laundering and 5 years for the Organization of gambling online". Nothing less. A bluff for the least cost.
If you look on the "Board of Directors" here http://theppa.org/about/board/, you see more Ferguson or Lederer.
Good news for players to Full Tilt Poker

If Tony G says true (for those who would be unaware, Tony G is owner of the site to information about poker, PokerNews), Full Tilt Poker is about to repay all players by shortly. According to his Twitter account:
"I have information that lead me to believe that Full Tilt works as hard as possible to ensure that players are paid." I would like to ask everyone to leave two weeks at Full Tilt to do what is necessary."
The direction of Full Tilt Poker said the new claiming (and confirming) that reimbursement of the players for them were the number 1 priority.
Discuss this news on PokerCollectif forums: of other brief in the wonderful world of poker

BLOG COMMENTS POWERED BY DISQUS
---