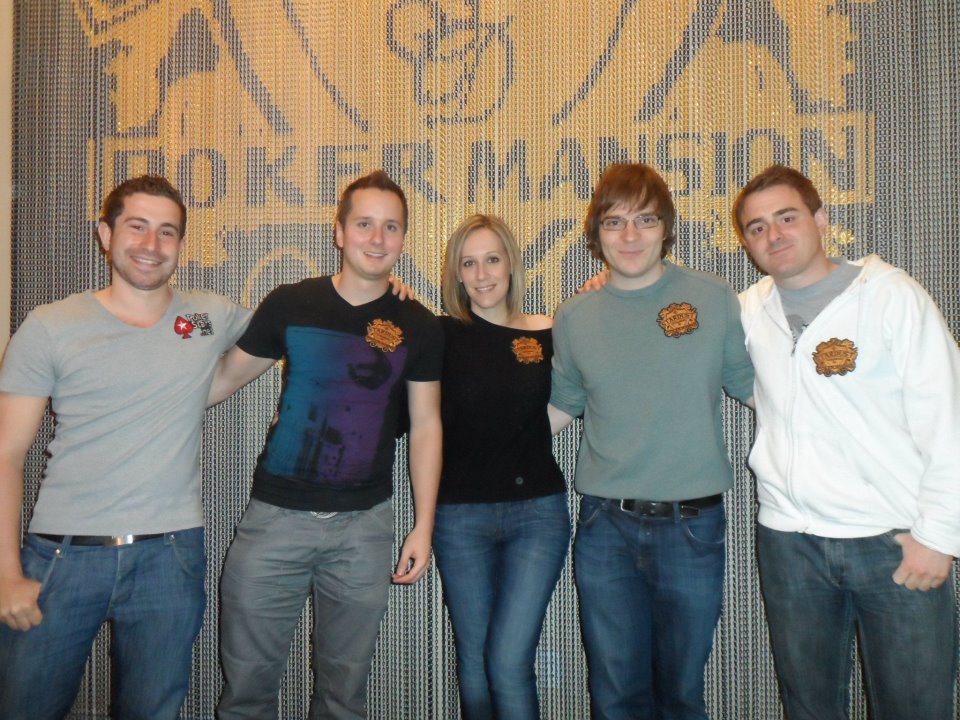 Stardust Poker Mansion opened its doors recently. You're part of the pros of this new room. Could you show us your team?
With pleasure! Let me explain a bit about how the team is built.
Jonathan Duhamel was associated with the project from the outset by having agreed to lend his name to the high rollers room. To add to John, the Stardust trying to build a team of players who performed well on both the local and international scene, and were active and valued within the poker community. These players had to be accessible, friendly, and to be present at the club on a regular basis.
We were in Vegas for the WSOP 2011 and we went to dinner at the Palazzo when we crossed Yamani Isham, director of poker room at the Stardust. He was already working on the project at that time and took the opportunity for us to say a word. For Stardust, it was important to partner with Quebec players and promote homegrown talent.
Gabriel Houle-Morin (GabyGaby), Marc Etienne McLaughlin (Captain_Irish) and myself, Geneviève Gloutnez (Pickpocket), had been a good summer in all three reaching a final table at a WSOP event in previous weeks. The timing could not be better. So we promised to meet us on our return to Montreal to discuss an agreement and that's how it all began.
In the fall, Christopher McClung (D0r1t0s), which already had a very good 2011 online, reached the 5 cashes in major tournaments in Europe in a few weeks. It was more than enough to allow him to join the ranks of the team.
I think I can say on behalf of all that we are very proud to be part of this team and we have a lot of fun to share this experience together.
For those who want to know more about the personal experience of each, you will find our complete biographies on the official website of Stardust by following this link:
http://www.stardustpokermansion.com/equipe-de-pros-stardust-poker-mansion.php
As pros, do you have a particular role to play?
Mainly to promote the Stardust, both in live events on social networks, forums, blogs, etc.. And be available on site to play, talk or eat! other players.
In sports in general, it is unlikely that you have the chance to compete with professionals. There was beautiful with poker is that anyone can measure a pro, and win! I think it brings out the competitive fiber that is within each and players enjoy. We also want the players do not hesitate to come and ask us questions, whether the life of a poker player or the game itself. There are a lot of passionate poker players who are not fortunate to have among their close friends excellent players who ask questions, and Stardust offers them this opportunity in a friendly and not intimidating atmosphere at all!
Do you have a minimum number of hours to go to play there?
No, there is no condition or restriction in terms of time. Personally, I try to go once or twice a week when I'm here. Approximately mid-June to mid-July we will all in Vegas for the WSOP, then this may be the only time of year where any of us will be present! It's time for you to go and enjoy good food! ;)
When are you most likely to pass?
Difficult to answer for others, but for my part, I always announcement earlier this week on facebook, twitter (@ Pickpocket123) or on the forums, which days I expect to be present. It varies each week depending on my schedule. Usually GabyGaby and I are present on the same days.
Were you a regular cash games live before pros for Stardust? You see some differences between cash games live and online?
My heart definitely belongs to the cash games online, even though I had less time to play lately. This is what has allowed me to grow both out. I've never been a regular cash games live, I played from time to time here, but mostly outside during our travels poker. I must say that yes, I see a difference in the game and it's a nice challenge to adapt to each variable and each opponent to make profits!
Can we already announce upcoming special events?
There are several things that are coming, among other nice promotions! For example, the player who has accumulated the most hours at the tables of cash games between Monday 21 and Sunday, May 27 will receive $ 1,000. Our complete website should be online sometime next week. Otherwise, Saturday, June 2 will be held on "monthly championship" tournament $ 150 over 3 days (Day 1A, 1B, and 2 days). Rumors about a very interesting upcoming series, but I do not think I can say more for the moment!
In addition to cash games, how often can you find tournaments in Stardust? What limits?
Every night of the week, at 8am, there is a tournament where the entry price varies between $ 70 and $ 110, except for Mondays when the Stardust offers freebuy his players, that is to say a tournament which admission is free, with guaranteed $ 2,500 in scholarships. On Saturday and Sunday there are two tournaments a day, 1 hour and at 8 pm. At the moment, the weekday tournaments are not very popular, but there is no doubt that this will get better with the summer holidays approaching.
What are the limits cash games?
Stardust offers cash games ranging from $ 1-2 to $ 10-25.
What rake do you pay for example on a table NL200 FR?

The rake at the Stardust is the same as everywhere else in Kahnawake. The standard is 10% max $ 8 to $ 1-2, and 5% max $ 14 to 2-5. That the Stardust offers special is that the rake is "capped" at $ 14 for all limits lying above the $ 2-5, which is advantageous for players to higher limits.

Will he table heads-up time? What limits do you play? What is the rake?

Yes HU tables are always available. The rake for limits ranging from $ 2-5 to $ 10-20 is 5% max $ 6. The Stardust, seeks above all to satisfy its customers as much as possible, so everything is negotiable. If two people want to play a HU, whatever format sit-n-go or cash game, it will establish an agreement that suits the two parties. It is also possible to agree to a fixed hourly rate.

In your opinion, what does the Stardust offer that other poker rooms so far not offered?
In addition to encouraging and promoting Quebec players and offer eg HU tables, what is not found elsewhere, I would definitely adaptability to the demands of its customers. Since opening, the Stardust was listening to all the comments made by the players and has done everything in its power to adjust quickly to customer satisfaction. For example, the tournament schedule has been changed 2 times during the month, and the structure has been adjusted so that the tournament week end a little less later. More importantly, the tables are currently being modified so that the outline is removed wood and there is carpet throughout. It was the biggest criticism made so far, so I think the players will be very pleased with the changes.
The team wishes to thank PokerCollectif Pickpocket for taking the time to answer our question!
If you ever have any questions for him, you can do so using our forum: PokerCollectif asks questions to Pickpocket on Stardust!
BLOG COMMENTS POWERED BY DISQUS
---