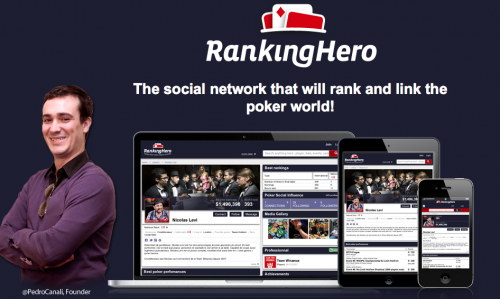 Last December, PokerCollectif spoke you of a Facebook type social network for poker players.
We present to you today is a bit different, although that centered him also on poker players. The big difference is that he wants to bring together the poker players, fans of these players, journalists, dealers, casinos, tournament directors, etc.
It is so RankingHero that is both a social network and another hand, a site's ranking of players such as Hendon Mob.
To quote the creators of the site:
"RankingHero is both a social network and a website that offers rankings related to the performances of the players. Professional gamers can use RankingHero to improve their reputation and stay in touch with their fans. The organizers of tournaments can ensure publicity of the latter. Fans can follow the results and publications of the pros. Our goal is to create the largest database of the poker community while offering gateways connecting pros with their fans and the various characters of the poker industry."
One of the creators of the site has already expressed in an interview: "this ambitious idea was born two years ago when a group of people became aware that there was a market for a social network for the poker industry. I myself joined the team six months ago and we hope to do great things together."
For now, the site is still in the beta stage, but it is still possible to register and to familiarize themselves with the site. It is important to note that the site is unfortunately not available in french for the moment. You will need to navigate in English.
Discuss this news on PokerCollectif forums: RankingHero, a hybrid between Facebook and Hendon Mob
BLOG COMMENTS POWERED BY DISQUS
---