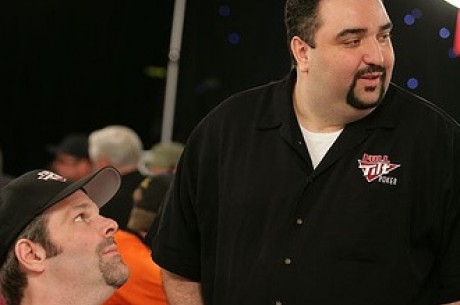 An interview with Ray Bitar, solely responsible in the case of FTP according to Doyle Brunson, has just been published. In this interview, it stated in particular that he is sorry for all this history and explains its silence. Remember that Ray Bitar was the CEO of the company and it is one of the most criticized people in this case (and not just by Doyle Brunson).
This interview conducted by Poker Strategy tells us that...Ray Bitar says nothing!
Here is still the full interview for those interested.
PS : Ray, many people from the world of poker are outraged by your silence following the charges related to Black Friday. Can you explain why you have not made a public statement?
Ray Bitar: there are two reasons for this. The first is that the current legal procedure prevents me from providing information related to Black Friday, and I do well obviously not want to jeopardize this procedure. I could make public statements, but they could not carry on questions relating to the investigation. Such statements would have been much too vague and would have responded to the genuine concerns of the people.
The second reason is that my team and I have been working every day since Black Friday to ensure that players be reimbursed. This is my current priority in addition to consider the different options that arise now Enterprise Full Tilt. Even though people would like to get specific information concerning the ongoing discussions (which I would also like to be able to do), all this work should be conducted internally, because I am convinced that media exposure would decrease the chances of a positive agreement be concluded. And it is on this that we need to focus at the present time.
My love of the game and its community makes it very difficult for me to remain silent, because of the attacks against FTP, myself and other employees in newspapers and Internet sites. Given the lack of information made public, I understand those feelings.
My main goal was and remains to work for what we all want: refund of the players and the survival of the company. I am fully involved in this case and I do everything I can so that the outcome is positive.
PS: that happened since Black Friday?
Ray Bitar: my life has changed dramatically since the month of April 2011. As head of TiltWare, I cooperated fully with the Department of justice so that it can complete this survey. I also spends a lot of time to ensure that FTP survive and that players be reimbursed. I know this case has hurt many innocent people and it is my duty to do my job properly. I continue to work tirelessly on these issues day and night in order to solve them.
PS: would you like to say something else to all of the players?
Ray Bitar: I would like to present my sincerest apologies to all those who have been affected by these events and to clarify that my silence is not an attempt to "hide" or "ignore" the situation but is due to the need to stay focused on our efforts to get the best possible deal for our players. My main goal is to arrive at a positive outcome for the players. I hope to bring quickly good news to all affected players.

Discuss this interview on PokerCollectif forums: Ray Bitar explained the FTP case
BLOG COMMENTS POWERED BY DISQUS
---