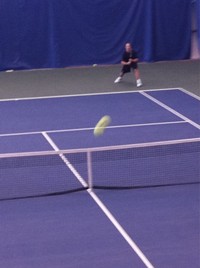 Patrik Antonius wins his bet

While Rui Cao stacks tokens by playing cards, Patrik Antonius in turn wins sports wagering. By betting on himself! Indeed, last Sunday, he played a game of tennis against Brandon Adams, which, for your information, is a less good player of tennis as Antonius. The sides were 10:1 in favor of Antonius. The players did a 2 of 3 and Antonius won the first set 6-0 and the second 6-1.

With this victory, Antonius pockets honors and a $ 30,000 (bet) award. The match was open to the public. Unfortunately for them, to look at the score, one can imagine that the match had nothing to removing.

After the match, Brandon said on Twitter:

@BAdams78: "no game of mind against Patrik. We have both started very tight. He started the machine and became more loose; I just became more and more tight."
Things are going well for Rui Cao

Rui Cao alias Gohanounet is a coach on the strategy Limpers.com video site. He plays both the Hold'em heads-up ' no-limit and Pot limit Omaha than tournaments and he excels in almost everything that it touches.

These days, so that all poker players are turning to the World Series of Poker, Rui Cao focuses on the cash games online and live.
On PokerStars since June 1, he made profits of 604 K$ and profits of 98 K$ on Full Tilt Poker. Let's say that things are going well for him at the moment. Is the fact that the majority of pros play more online since the beginning of WSOP is for something? Probably!

To measure skills, next Sunday, it will be the opponent of "Isildur1" in SuperStar Showdown. We will then see how it is doing against the very tough Viktor Bloom.

The losers/winners for the month are:

Winners

PepperoniF $603 930
kork $440 816
NoPasaran - $258 382
therooster35 - $243 518
Terken89 - $205 020
mTw-DaviN - $152 962
XWINK - $151 626
ronnyr37617 - $132 845
alexeimartov - $120 309
dilling89 - $111 933
insyder19 - $107 513

Losers

Ilari end - 229 $093
Esvedra - $210 999
FinnishNightmre - $145 193
Isildur1 - $123 195
EireAbu - $117 417
Basouli - $116 612
urubu111 - $103 202
tuff_shark - $85 540
altiFC - $81 266
Darkrevenger - $76 586



Discuss this news on PokerCollectif forums: things are going well for Rui Cao / a prop easy bet for Patrik Antonius
BLOG COMMENTS POWERED BY DISQUS
---