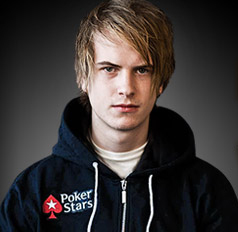 As of today we learn that the player highstakes most in seen at PokerStars is no longer in the pro team of the world's number 1 online poker.
The news was confirmed by Eric Hollreiser, Director of communications for PokerStars. Viktor Blom now wants to concentrate on poker.
Mr Hollreiser commented: "in short time since he plays Poker, Viktor played against the biggest names in poker at the highest limits in the more difficult parts. It does not recall seeing a player captivated as much the world of poker at an early stage of his career. "We will follow with great interest and wish him nothing but success".
Questioned about his departure, Viktor says: "I spent good moments as a Pro Team and I wish the best to everyone at Pokerstars. Now I want to just concentrate for playing poker".
One thing is certain, it is not because Mr Blom is no longer member of the PokerStars team that not discussed in more play on PokerStars highstakes tables!
Remember that Viktor Blom had been talking about him after a long duel at Full Tilt Poker against Tom Dwan! Blom had aimed 4 Dwan for several hours and emerged winner of this session! The man came out of nowhere was now a star of poker!
Discuss this news on PokerCollectif forums: Viktor Blom aka Isildur1 leaves team PokerStars
BLOG COMMENTS POWERED BY DISQUS
---