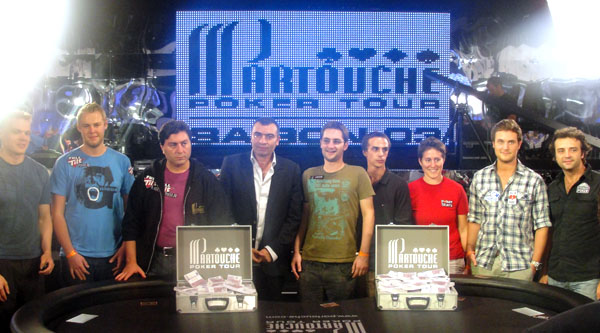 Just as a scandal tonight at the Partouche Poker Tour in Cannes. Indeed, Patrick Partouche announced today that one of the finalists, Ali Tekintamgak, was disqualified from the tournament.
According to Patrick Partouche, the German Ali Tekintamgak (the third player from the left on the photo) was caught red-handed cheating after organisers have viewed the videotape of the day #5. "We have all the evidence in videos. Never otherwise we could not take a weighty decision's consequences. We have filed a complaint for fraud and the case is now in the hands of justice and the police who watching the bands"-you he said at a special meeting that took place between the other eight finalists and the organizers of the tournament.
The final table will therefore begin with 8 players rather than 9. They will be all policyholders of at least 130 €000 or the amount given for 8th place. Wrongful German tokens will be removed from the table, which depressed the average of tokens into play. € 110,000 in ninth place prize is currently blocked. Assessing the different possible scenarios and this sum should be divided between the eighth and the first place or be paid to a charitable organization.
Ali Tekintamgak is not his first offense of the kind: he had been expelled from the Tallinn EPT to last August. Thomas Kremser, Director of the EFA, took Tekintamgak hand in the bag. The latter was in cahoots with of fake journalists/bloggers who indicated by sign the play of opponents in is placing behind the victims. Would have taken the same way in Cannes.
Ali Tekintamgak won the WPT in Barcelona earlier this year. This title likely to be delivered in question, and the video of the final table could indeed bring new evidence. There are also part of this video of the Barcelona WPT on Youtube. (See the video below)
This accusation of cheating could lead to a heavy penalty for Tekintamgak, which faces even imprisonment if found guilty of fraud. If he is guilty now, Tekintamgak could also be banned for life from all tournaments in the world.
You can discuss this new by clicking the following link: a cheater unmasked at the Partouche Poker Tour tournament. He was also the EPT Tallinn expelled and won the WPT in Barcelona earlier this year!
BLOG COMMENTS POWERED BY DISQUS
---