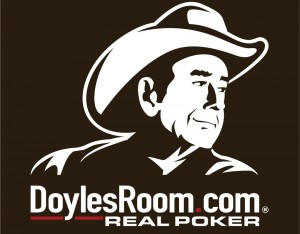 After the departure of the renowned Lee Jones as Director of Cake Poker, nothing goes on the Cake network, which has seen better days. Indeed, PokerCollectif has learned from a source considered reliable that DoylesRoom, the poker room online with headlining the famous Doyle Brunson poker player, would also leave the boat. DoylesRoom is, at this moment, one of the larger rooms of the Cake network.
DoylesRoom was established in 2004 and is not its first change of network. They were first a room of the Tribeca network (which merged to IPoker). They then headed to the MicroGaming in 2007, network and then to the Cake network in 2009. DoylesRoom would therefore lead on a 5th network in 7 years of existence.His departure is now imminent and according to our sources, the agreement would have already been signed with this new network. No announcement has been made.
Since already some weeks it is indeed longer possible players to download DoylesRoom software. Withdrawals are also delayed and should be dealt with during the week.
It is currently not possible to know on which network will lead DoylesRoom, but PokerCollectif believes that the choice will probably stop on the Merge network: the network meets the needs of DoylesRoom and is expanding (they improve their traffic + 25% lately). DoylesRoom would become, with CarbonPoker, one of the main attractions in this network.
The announcement of the DoylesRoom move should be made this week. In the meantime, follow developments on the forum by clicking the following link: rumor - DoylesRoom would leave the CakePoker network and drove toward the network Merge.
BLOG COMMENTS POWERED BY DISQUS
---