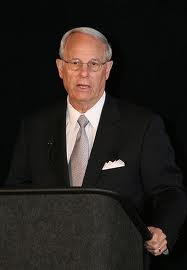 Many people have this question in mind; What is the future of poker online at our southern neighbours? Several have already come out on the issue, but so far, few official statements have been made.

According to Frank Fahrenkopf, president of the American Gaming Association, the news is encouraging. For information, the American Gaming Association is an organization established in 1995 with the mandate to educate and promote the game industry. Their mandate is to keep up-to-date on all of the population of the news and developments in this market. It also represents casino operators Americans such as Wynn, MGM and Las Vegas Sands.
According to Mr. Fahrenkopf, the information on the legalization of online poker will be known in the fall. According to him (and this is really a new, but a large enough evidence), the online poker market must be regulated in the United States. In his words, "there is a very short window of opportunity this year which can enable us to pass the necessary legislation to regulate the sector."

According to him: "the poker would be the only product that could be regulated because it is less stigmatized than casino products. Those who have withdrawn from the market following the passage of the UIGEA were responsible, those who continued to operate are those who are prosecuted."

It also launched the invitation to all poker rooms to join the AGM in order to facilitate the adoption of the Bill which control the games online, including poker.

Even though Mr. Fahrenkopf is of the opinion that the current political actors are not necessarily those which will facilitate the regulation of poker online soon, he remains optimistic: "John Kyl, the Republican Arizona Senator will leave office in 2013, and if then the Democrats lose their majority in the Senate and that Harry Reid, from Nevada and the Senate majority leader is defeated and left office after the presidential elections of 2012the political landscape of Washington might be very different from what it is currently.

Mr. Fahrenkopf made the statement at his keynote speech closing the iGaming Super show in Dublin last week.

The possible regulation of online poker would result from a bill from the Department of Commerce federally with details and annexes for each U.S. State.

In his usual, PokerCollectif will keep you informed of any development concerning this new.

In the meantime, discuss this news on PokerCollectif forums: USA: regulation of poker online for fall?
BLOG COMMENTS POWERED BY DISQUS
---